The earliest inhabitants to visit the Austin area arrived at least 10,000 years ago. Partial human skeletons have been found in the area surrounding the Hill Country that date to that period. Shortly before Europeans arrived in this region of modern Texas, three native tribes struggled with each other for control of the area. The various bands that would eventually make up the Tonkawa tribe had been in the area for many centuries. Early remains found within the Sun City development indicate a prolonged period of occupation. However, during the time shortly before the Spanish arrived in Texas, population pressures had forced first the group later known as Apaches into the area, followed by the groups now known as Comanches. Fighting between these three factions was common as each one strove to maintain control over the resources and territory of central Texas.
It was into this population dynamic that the first Europeans entered the scene. Records are scarce that document the first Spanish exploration of the Hill Country around Austin; however, the El Camino Real (King's Highway) passed through modern day Bastrop and Hays Counties, through the communities of San Marcos and Bastrop. In 1730 the missions of San José de los Nazonis, San Francisco de los Neches, and Nuestra Señora de la Purísima Concepción de los Hainai were removed from East Texas and located along the Colorado River near the present site of Zilker Park. They remained at that location for around a year before being removed again to San Antonio.
After the Mexican Revolution the province of Texas was united with the state of Coahuila to form the state of Coahuila y Tejas. The Mexican federal government enacted a national colonization law in 1824 which instructed each state to pass a colonization law for the settlement of the unoccupied territory within its limits. In accordance with the national decree, in 1825 the Legislature of Coahuila y Texas passed its colonization law. The task of finding colonists to populate these territories was given to empresarios, men who contracted with the government to colonize assigned territories in exchange for sizable land grants of their own.
Beginning in 1825, empresario Stephen F. Austin began to introduce Anglo settlers from Texas as part of a colonization project. While Austin hoped to become wealthy through the enterprise, the newly minted Mexican government was looking to populate its northernmost state. Hoping to capitalize on Austin's success, other empresarios attempted to make contracts with Mexico to bring settlers into Texas. Benjamin Rush Milam, a soldier and entrepreneur from Frankfort, Kentucky, was just such a person.
Ben Milam had participated in the Mexican Revolution on the side of the Federalists. After the advent of the Constitution of 1824 Milam was granted Mexican citizenship and made a Colonel in the Mexican army. He attempted silver mining in Nuevo León and also received an empresario grant in Texas in 1826. (Records concerning Milam's Colony are located at the Texas General Land Office: http://www.glo.state.tx.us.) Milam's Colony was not much of a success, due in large part to legal restrictions placed on empresarios by the Mexican government under Santa Anna that prohibited new settlers from the United States. Ben Milam went on to lead the Storming of Bexar during the Texas Revolution, in which he uttered the famous cry: "Who will go with old Ben Milam into San Antonio?" Milam was killed during that battle by a sharpshooter. The first land grant issued by a government of Texas to incorporate the boundaries of the South Lamar Neighborhood was issued as a part of Ben Milam's Colony. The recipient of this land grant was Isaac Decker.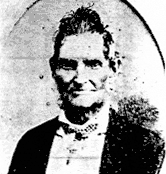 Isaac Decker
Issac Decker was born in Canada on October 6, 1795. While living in Michigan in 1834, Decker applied for a land grant in Stephen F. Austin's upper colony. He did not receive the grant, and he subsequently applied for land in Ben Milam's colony. Why Decker did not receive a grant from Austin is unknown, but Decker listed his occupation as shoe cobbler in his application for Austin's colony, then changed his occupation to farmer when applying for Milam's colony. He probably did that to obtain more land, as those colonists who farmed and ranched would receive a league of land, or 4228 acres, whereas those who did not would usually receive at most a labor of land, or 177 acres.


Issac Decker League, from Travis County Original Survey Map, 1861. Click on the picture to view map.
(PDF, 715K)
Isaac Decker was granted a league of land in Milam's colony on March 17, 1835. The league bordered the Colorado River from the mouth of Barton Creek in the west to the mouth of Blunn Creek to the east, its southeastern border reached to Williamson Creek, near IH-35. The southwestern corner was approximately where Stassney Lane and Manchaca Road now meet.

Decker and his family did not live in this area for long--problems with attacking Indians reportedly contributed to his decision to sell his land to David Browning and Daniel Browning on June 18, 1838. The Republic of Texas granted Decker a labor of land in Montgomery County in east Texas where the city of Tomball now exists. There Decker plied his trade as tanner and shoe cobbler; during the Civil War he supplied horse harnesses and shoes to Confederate troops. He remarried three times after the death of his first wife Deborah, and fathered 22 children, including three sets of twins. He lived on this land, which is now named Decker Prairie, until his death in 1874.
Supporting documents courtesy of Texas General Land Office, Austin:
| | |
| --- | --- |
| | Issac Decker League land title, State of Coahuila and Texas, March 7,1835 (PDF, 3.61MB) |
| | English translation of above document (PDF, 103KB) |
Thanks to...
Jerry Drake, Texas General Land Office, Archives & Records Division
Jane Keppler, Montgomery County Genealogical & Historical Society
...for their assistance with this history page.

---